Affordable Papillon Puppies & Dogs.
Breed description:
General Appearance The Papillon is a small, friendly, elegant toy dog of fine-boned structure, light, dainty and of lively action; distinguished from other breeds by its beautiful butterfly-like ears. - from AKC.org
Browse our Papillon Breeders. View owner cost, prices and information about Papillon
Pin it on Pinterest:
Pin my images now!>
---

Crisanda Papillon & Phalenes info

View my puppies


Puppy Ads


Map View


Puppies for sale in Billings MT 9883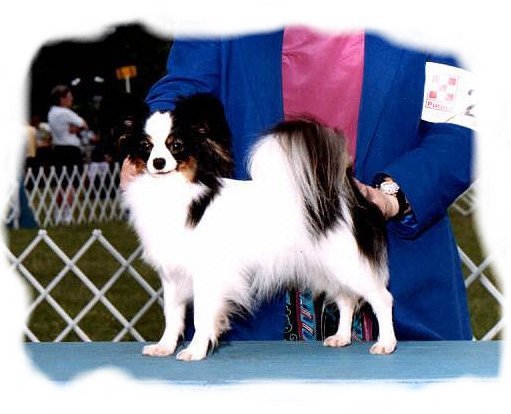 I have been in purebred dogs since 1974, having owned Papillons since 1982. I have finished numerous breeds, including Papillons, to their conformation and obedience titles.I bred my first Papillon litter in 1985 and have never looked back. I also breed and show the lovely drop eared variety of the Papillon, the Phal?ne. I would like to strongly encourage any potential Papillon buyers that are looking to purchase a Papillon, or Phal?ne puppy to contact me for educational purposes first. ***Not all breeders in rural areas have high ethical standards, or quality stock. ***Please contact me for more detailed information regarding how to find a healthy, happy puppy, AND a good breeder. ***Don't just buy because the price is cheaper; buy because the puppy is from sound, healthy,quality breeding dogs; raised in a healthy, clean environment; properly socialized,and the breeder is above board, and ethical as well. **All of these things are crucial in finding the right puppy, and breeder for you. Price should never be a determining factor when you are looking for a healthy, happy puppy. **I actively practice, and support, the preservation of this incredible little breed, and I strongly encourage others to do the same. For more information about the breed, the Phal?ne variety, or buying a puppy please feel free to contact me by phone, or visit my large and informative website at www.crisanda.com Thanks! Vickie Ehrlekrona
(406) 661-2300
[
Breeder Location
(Billings MT)
---

FINAL REDUCTION IN PRICE - FEMALE PAPILLON - 4 REGISTRIES info

View my puppies


Puppy Ads


Map View


Puppies for sale in PORT REPUBLIC
******litter "Willow" X "Radar" Just 1 left - "Lady" is a georgeous Red- Wolf Sable & White Female Papillon born July 25, 2009 & ready now. 4 Canine Registries: AKC, CKC, APRI, & ACR. Price is $550.00 (PET ONLY - MUST BE SPAYED AT THIS PRICE) or $750.00 (FULL RIGHTS & REGISTRATION)- SHIPPING NOT INCLUDED. This little lady is super sweet & playful. Vet checked, up to date on shots (all Puppy Distemper, Bordetella, Rabies, & both Lyme Vaccines - breeder does recommend that you get her the new Canine Influenza Vaccines) also current on wormings, heartworm preventative & K9 Advantix treatments. Working on crate & potty training. We are small hobby breeders of strictly Pure-Bred Registered Papillons. NO DESIGNER DOGS HERE. Our adult dogs were certified therapy dogs (and when time allows will be again) & under 10lbs each. Our puppies are raised underfoot to become very loving & cherished family members. All puppies have been vet checked & have de-wormings, shots and heartworm preventatives up to date. Puppies have champion bloodlines. All of our puppies come with a puppy kit that contains: information on the care of your puppy & a list of recommended books to read; copies of your puppy's vet record, certfied pedigree, & all of its registration papers; copies of both parents vet records, pedigrees, & registration papers; 1 month heartwormer (your puppy will be up to date on its heartwormers); 1 month K9 Advantix Treatment ( puppy has been treated 1 time); samples of puppy foods & coupons; a collar; A toy; & a piece of towel with the scent of Mom & littermates to ease in the seperation process; misc other goodies; & a reusable canvas bag to take it all home in. Our puppies are available only to good & loving homes. Please do not think I am being rude but if you are just out to pull a scam on innocent people do not bother answering this ad. I can not ship my puppies out of the country- so if you can not pick up your puppy in person or tell me where it is to be shipped so I can figure out shipping charges do not bother answering my ad. We might be able to meet you or deliver the puppy to you for the cost of our travel expenses. Thank You For Your Interest In Our Babies & Have A Wonderful Day!!!!!!!!!!!!!!!!!!
443 532-5287
[
Breeder Location
(PORT REPUBLIC )
---

Schnauzer svarta (mellan)

My puppies for sale



Map View
Liten uppfödning i hemmamiljö bland barn och vuxna hundar.Följer SKK´s och SSPK´s regler för försäljning av valpar.Tecknar alltid doldafelförsäkringar på mina kullar.Valpar finns just nu två tikar och en hane söker ansvarsfulla hem.Dom är födda 29/12 2007.
Spindelvägen 15, 51633 Dalsjöfors/borås
[ Breeder Location ( Sweden)
---

tinypap.com info

View my puppies


Map View


Puppies for sale in Arlington TX
Beautiful Papillons, living room raised, perfect companions, Pedigree, up to date shots/worming etc... Kept in an enriched environment to enhance the already innate companion animal they are. Visit our website for more information and pictures of parents & siblings. www.tinypap.com
710 Greenleaf Dr. Arlington, Texas 76017 817-557-0747
[
Breeder Location
(Arlington TX)
---

Papillon & Pomeranian - StarforceKennel.com info

View my puppies


Map View


Puppies for sale in GTA Region ON Breeding and Showing for +15 years, Papillon and Pomeranians, adults and pups microchipped, shots & health guarantee, pups registered CKC. Starforce Kennel is one of THE foremost family-run kennels in Ontario, with partnerships with many other small kennels. Well known and respected, we are happy to help you find what you are looking for.
1-705-719-1558, Canada and US or international shipping available.
[ Breeder Location (GTA Region ON)
---

Wintersgate Kennel info

View my puppies


Map View

---

CADEAU Papillons info

View my puppies


Map View

Home breeder and exhibitor of beautiful AKC Papillon dogs and puppies located in Maryland (just north of Washington, D.C.). Puppies available now for pet and for show! Visit our website www.cadeaupapillons.com
Olney/Laytonsville, MD
[
Breeder Location
( MD)
---

Jaymar Papillons info

View my puppies


Map View


Puppies for sale in Toronto Canada Top papillons in Canada, home of multiple group winning/placing and BIS/BPIS winning papillons. All dogs are clear of hereditary health problems. Sound in body and mind, we take pride in the structure we produce. Top Finnish, American, European, Scandanavian, Japanese bloodlines
Ontario, Canada
[ Breeder Location (Toronto Canada)
---

ALEDA Papillons info

View my puppies


Puppy Ads


Map View

---

S&L Papillons and Phalenes info

View my puppies


Map View
97

S&L Papillons and Phalenes My daughter and I raise Show and pet quality Papillons and Phalenes that we have brought over from Sweden. We sell our pets on a spay neuter basis only and our potential buyers ae carefully screened. Our dogs are very important to us and we try to improve our breeding program everyday.

[ Breeder Location ( NE)
---

Foxfire Papillons info

View my puppies


Map View

---

Bluechip Papillons info

View my puppies


Map View


Puppies for sale in Toronto Canada Bluechip Kennels is located in Niagara-On-The-Lake, Ontario, Canada. We have a select breeding program of Papillons with American, Canadian, and English bloodlines. Come visit our site and see pictures of our Papillons taking part in conformation, obedience and agility and more!

[ Breeder Location (Toronto Canada)
---

Forevr Papillons info

View my puppies


Map View
Danny & Ruth Ann Ford of Forevr Papillons have over 20 years of Dedicated Experienced Breeding of Exclusive Quality Butterfly Dogs. Pennsylvania, USA. Ethical, top quality breeders producing champions as well as Group & specialty, best in show winners, performance winners in obedience & agility and companion champions of the couch. Their showpaps.com site has original articles on grooming, puppy care, breeding, whelping, phalenes, health, agility, rescue, FAQ and so much more.
http://www.showpaps.com/linksindex.htm
[ Breeder Location ( PA)
---

Hillside Papillons info

View my puppies


Map View

---

WICKED WALKERS Tennessee Walking Horses and Papillon dogs in Roc info

View my puppies


Map View


Puppies for sale in Austin TX WICKED WALKERS, breeding show quality registered Tennessee Walking horses and Papillon dogs in Rockwall, Tx. Naturally gaited, plantation pleasure horses. At stud, 16 HH, black and white tobiano, Tennessee Walking Horse stallion, Cash's Masterpiece. TWHBEA-SSHBEA-NSSHA. Wicked Walkers broodmares add World Champion Tennessee Walking Horse bloodlines to their foals' pedigrees.
http://www.wickedwalkers.com/links.htm
[ Breeder Location (Austin TX)
---

Golden Leafs Papillons info

View my puppies


Map View


Puppies for sale in Stockholm Sweden Worldclass Swedish Papillons. Bred for temperament, health, anatomy, coat and fringing. Topwinners in Sweden, Norway, Japan, the Czech Republick, Slovakia and Austria. Breeder since 1971, Papillons bred since 1985.

[ Breeder Location (Stockholm Sweden)
---

Ekbacken's Papillons in USA info

View my puppies


Map View
Welcome to Ekbacken's Papillons in Minnesota, USA. Home of the Number 1 Papillon in Japan, 1999: Pedigree Award Winner 1999 BIS. INT. AM. JKC CHAMPION EKBACKEN'S EMIL I LONNEBERGA. Our Papillons are from Swedish, English, American and Japanese lines. Lots of pictures. Enjoy!

[ Breeder Location ( MN)
---

Haremet's Papillons and Phalenes in Sweden info

View my puppies


Map View


Puppies for sale in Stockholm Sweden Welcome to Haremet's Papillons and Phalenes in Sweden. My ambition is to breed Papillons and Phalenes, who have a sound conformation, both physically and mentally. The dogs in my breeding program must be eye checked by a certified veterinarian, and also be PL free. There is a lot of research going into every litter. I have exported to Denmark, Norway and USA. I keep in contact with my buyers. It is exciting to hear about their success around the world!

[ Breeder Location (Stockholm Sweden)
---

Marric Papillons and Phalenes info

View my puppies


Map View


Puppies for sale in Ceresco NE We breed papillons for conformation, agility and obedience. We show our dogs in conformation. Our dogs are bred with careful consideration to pedigree and to the improvement of the breed. We occasionally have puppies, young adults and retired adults available as companions. Dogs are sold with a contract after approval of a home. We do not sell intact papillons.

[ Breeder Location (Ceresco NE)
---

Deanna info

View my puppies


Map View

---

Majestic Joy Papillons info

View my puppies


Map View
Enjoy looking over the wealth of information provided by Majestic Joy Papillons. We are a small family kennel. Proud to be breeders, owners, and handlers of these wonderful dogs. Home of champion bred papillon puppies. Bloodlines from England , Finland , and Sweden.

[ Breeder Location ( IL)
---

D'Vine Papillons info

View my puppies


Map View

---

Zeliacon Papillons info

View my puppies


Map View
Contact Information Telephone: 563.381.2588 Postal address: 11145 - 141st Street, Davenport, IA 52804 Electronic mail: forrestjohnson@mchsi.com

[ Breeder Location ( IA)
Page:1