Affordable Australian Shepherd Puppies & Dogs.
Breed description:
The Australian Shepherd is an intelligent working dog of strong herding and guarding instincts. He is a loyal companion and has the stamina to work all day. He is well balanced, slightly longer than tall, of medium size and bone, with coloring that offers variety and individuality. He is attentive and animated, lithe and agile, solid and muscular without cloddiness. He has a coat of moderate length and coarseness. He has a docked or natural bobbed tail. - from AKC.org
Browse our Australian Shepherd Breeders. View owner cost, prices and information about Australian Shepherd
Pin it on Pinterest:
Pin my images now!>
---

Quality Mini Australian Shepherd Pups info

View my puppies


Map View


Puppies for sale in New Underwood SD We are a small hobby breeder of mini aussies. We strive to produce the qualities of the standard aussies in the mini size, and to produce the best quality pup that we can. We have pups once a year right now and will be having pups come spring. Please feel free to visit our website for more info. Thanks
PO Box 341, 605-754-6439
[ Breeder Location (New Underwood SD)

| | |
| --- | --- |
| | |
---

Australian Shepherd puppies due first day of Spring info

View my puppies


Map View


Puppies for sale in Bridger MT Ranch raised and family loved AKC and/or ASCA registered Australian Shepherds. Our dogs work the ranch everyday. All of our breeding stock are OFA certified and eyes cleared. Pedigrees of our dogs are a combintion of working and show lines, consisting of Hall of fame kennels Las Rocosa, Twin Oaks, Fair Oaks, Biarbrook, Fieldmaster and Top Notch. We are nessled in the foothills of the Beartooth Mountians in the beautiful state of Montana. I have raised and loved aussies for over 20 years. All pups come with a health garentee and first vaccinations and deworming as well as socialization with other animals and children. Our pups could excel in herding, agility, obedience or just be a great family dog. Pickup or Shipping available. Please check out my website for more information
406-861-3715
[ Breeder Location (Bridger MT)

| | |
| --- | --- |
| | |
---

Muddyfeet Australian Shepherds info

View my puppies


Puppy Ads


Map View


Puppies for sale in NH NH
We Are expecting a summer litter!!! ASCA/AKC Australian shepherds Breeders with 20+ years experience with the breed. We are active in Conformation, and several Performance sports with our dogs. We offer pups/adults on a occasional basis to show/perfomance and of couse companion homes. Our breeding program involves multiple lines of HOF and versitility bloodlines. ALL our dogs are DNA parantige profiled, certified for Hips, Elbow, cardiac, thyroid, patella, CERF clear and DNA tested for PRA, CEA and Cateracts mutation. If we do not have a litter Refferals are offered.
603-490-2850
[
Breeder Location
(NH NH)
---

Miniature/Toy Australian Shepherds Champion Lines and BET\'s info

View my puppies


Puppy Ads


Map View


Puppies for sale in Northwood BET's and Champion Lines We have a litter of 7 available NOW!!! They were born 11-24-09 and are ready to go 1-19-2010 The parents are both sired by international champions we have Tons of blue eyes in this litter. Check us out or feel free to call www.beavercreekminiranch.com
701-371-1723
[ Breeder Location (Northwood )

---


My puppies for sale



Map View


Puppies for sale in gill CO REGISTERED Miniture Austrailian Sheppard Puppies 11 week old fur balls looking for forever homes...1 black and white male, 1 black and brown male, 1 black and brown female, 2 red males and 1 red female.... These cute little fur balls are used to other dogs, cats and horses...they have had their shots and are registered. Please call me at 970-215-8835 or email me at lezleighs@yahoo.com for more information.
970-215-8835
[ Breeder Location (gill CO)

---

\"Quality\" Australian Shepherds Miniatures & Standards info

View my puppies


Puppy Ads


Map View


Puppies for sale in Kernersville NC
We are a small Hobby Breeder of the Miniature & Standard Australian Shepherds. We breed for the Intelligence, Temperament, & Health of the Aussies. Most of our dogs come from Champion Bloodlines & Working Stockdog lines. We strive to stay with the Foundation of the Aussies. All of our puppies are Hand Raised. All puppies have a complete checkup with our vet, and come with a complete Health Guarantee. All of our dogs are reg. with AKC, ASDR or MASCA. Please enjoy going to our website to meet our family of Aussies and also for Litter Announcements and updates. www.barklminiaussies.com
336-643-5205
[
Breeder Location
(Kernersville NC)
---

Trinity Bay Aussies info

View my puppies


Map View


Puppies for sale in Beach City TX Located near Houston, we are a small hobby breeder that strives to produce healthy and well-socialized puppies that would make a wonderful addition to your home. Our puppies have excelled in herding, agility, tracking, service work and most of all life-time family companions. Each puppy comes with their application for registration, health records, a Deluxe Puppy Starter Kit, care booklet and package of their puppy food. They will be current on their vaccinations and deworming. We offer a TWO year money back health guarantee. I am a Registered Veterinary Technician. My love and appreciation of working ranch dogs began over twenty years ago. It was after we saw how hard it was to find a puppy that met our needs that we began raising a few puppies. We have placed puppies throughout the USA (including Alaska), Canada, Mexico, Colombia and the Dominician Republic. Please check out our website for some great puppy information. NEW VIDEO's of PUPPIES!!!
281-573-2824
[ Breeder Location (Beach City TX)
---

CRYSTAL WINDS AUSTRALIAN SHEPHERDS ~ Minnesota info

View my puppies


Map View


Puppies for sale in St.Francis MN CRYSTAL WINDS AUSTRALIAN SHEPHERDS We are a small kennel north of the Twin Cities ( Minneapolis, St.Paul) Minnesota located on 40 acres. We compete in several venues and registries, attaining Championship titles in ASCA, AKC, UKC, CKC and International. We feed a raw and natural diet. We raise our puppies in our home and take socializing very seriously. We make sure that puppies get a great foundation for their new families to build on. Quality Australian Shepherds, Naturally reared from OFA Certified and CERFed parents - most from CHIC certified and many other health and genetic tests done as we take the health and genetic future of our breed very seriously. Breeding to the standard for structure, beauty, temperament, health, movement and versatility. Stud Service available to approved bitches and puppies and adults available occasionally to approved homes. All are ASCA and AKC registerable. Breeding for all venues: Conformation, Agility, Herding, Obedience, other performance and wonderful pet companion animals. References from our puppy buyers are available.
St. Francis, Minnesota 763-753-8371
[ Breeder Location (St.Francis MN)
---

Mercury Australian Shepherds - FL info

View my puppies


Map View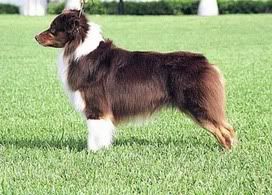 ---

M and R Aussies info

View my puppies


Map View
All Aussie pups are raised on a farm where they can get plenty of exercise and fresh air. I have been raising Australian Shepherds for over 15 years and offer a health guarantee on all pups. Shipping within the US is available.
184 SE 45th Road
[ Breeder Location ( MO)
---

Sherbil info

View my puppies


Map View

---

Synecdocke Belgian Shepherds info

View my puppies


Map View


Puppies for sale in Alberta Canada
Our number one priority with breeding is health and character. We strive to produce typy, sound Tervurens both in body and mind. Come for a visit and meet our dogs. All breeding dogs are OFA & CERF clear. Puppies occationally for performance and companion dogs.
Box 534, Whitecourt, Alberta, T7S 1N6, Canada, 780-706-3248
[
Breeder Location
(Alberta Canada)
---

AKC/ASCA reg Australian Shepherd Puppies info

View my puppies


Map View
AKC/ASCA registered Aust Shepherd pups available to show/companion homes. One blue merle male (companion only will be "mini-size"), two black tri males (show/breeding home for one, other one can go to a companion/performance or show home, he will be small standard). Sire/dam are OFA GOOD/CERF clear. Dam is ASCA major pointed towards her ASCA Championship. More information on website, homes will be screened and are available only to approved homes!SERIOUS inquiries only!www.starvalleyaussies.com

[ Breeder Location ( NC)
---

Ghost Creek Mini Aussies info

View my puppies


Map View

Ghost Creek Miniature Australian Shepherds is a hobby breeder. All our adults are OFA'd and CERF'd and our breedings are carefully planned for the betterment of the breed. We currently have a litter of 7 beautiful puppies (5 girls/2 boys you can see at: www.ghostcreekminiaussies.com Also, please check out the links page to learn more about this wonderful, loyal breed.
18 Eastwind Lane, Edgewood, NM 87015 505-281-1510
[
Breeder Location
( NM)
---

Serenity Australian Shepherds info

View my puppies


Map View


Puppies for sale in Stockholm Sweden Raising and showing sound versitile Aussies. All dogs are registered AKC, UKC, ASCA and have OFA's and CERF's done. All puppies sold on spay/neuter unless going to a show home. Only one litter available a year with reservations recommended!
815-452-2706
[ Breeder Location (Stockholm Sweden)
---

Veritas Australian Shepherds info

View my puppies


Map View


Puppies for sale in Austin TX Located in the beautiful Texas Hill Country, our Aussies have the run of our 10 acre farm. Happy well adjusted dogs are primary. Being show or performance dogs comes second. Our focus is producing the best all around Aussie from top bloodlines. As a family we have experience in breeding, showing and training dogs and horses encompassing 35 years. Here at Veritas we raise, train and show our dogs ourselves. All dogs are owner handled. Veritas Aussies, Where Truly Versatile Aussies are Born!

[ Breeder Location (Austin TX)
---

Kootenai Australian Shepherds info

View my puppies


Map View


Puppies for sale in Washington WA Welcome to Kootenai Australian Shepherds! I am located in Newport, WA, about 1 hr north of Spokane. I am committed to producing versatile Aussies, and compete with my Aussies in agility, obedience and herding events. All my Aussies are AKC & ASCA registered. I produce 1-2 litters annually and place all my pups with a health guarantee. Please visit my website for more information about my kennel.
PO Box 113, Newport, WA 99156
[ Breeder Location (Washington WA)
---

Flinthill Australian Shepherds info

View my puppies


Map View

---

Teknicol-R Aussies info

View my puppies


Map View


Puppies for sale in San Diego CA Breeder and Exhibitor of quality Australian Shepherds. Breed for sound bodies , minds and beauty. Health Clearances and quarantees. Some local handling, stud service to approved bitches. Puppies occasionally. We also refer to rescue. If we don't have a puppy for you we can recommend some that has what you want.
Bakersfield California
[ Breeder Location (San Diego CA)
---

RINGKONA REG\'D AUSTRALIAN SHEPHERDS info

View my puppies


Map View


Puppies for sale in Alberta Canada QUALITY CKC REG'D AUSTRALIAN SHEPHERDS AVAILABLE IN ALBERTA CANADA. WE HAVE PUPPIES DUE 13 MAY 05 FROM CHAMPIONSHIP STOCK. THESE PUPPIES WILL BE AVAILABLE TO APPROVED HOMES. CHECK OUT OUR WEB SITE FOR MORE INFORMATION.
BOX 1022 COLD LAKE, ALBERTA, CANADA, T9M 1P3 (780) 826-4642
[ Breeder Location (Alberta Canada)
---

RaineDance Australian Shepherds info

View my puppies


Map View


Puppies for sale in San Diego CA Welcome to RaineDance. We are a small kennel located in Santa Rosa about an hour north of San Francisco, California. We are dedicated to the health and promotion of this versatile, happy breed. I have enjoyed the company of dogs my whole life, but truly the Aussie has captured my heart! Please take a look around, and you will find some fine examples of true Aussie spirit. Beautiful, intelligent, responsive, energetic and FULL of personality, Aussies have what it takes to do ANYTHING.
Santa Rosa, CA
[ Breeder Location (San Diego CA)
---

Criteria Australian Shepherds info

View my puppies


Map View


Puppies for sale in San Diego CA We are a small breeder of Quality Australian Shepherds located in the Sierra Foothills east of Sacramento. We raise sound aussies with temperment, health, sturcture and movement being our primary goals.
294 Kilham Road, Auburn, CA 95603
[ Breeder Location (San Diego CA)
---

Briarbrook Kennel info

View my puppies


Map View
Briarbrook Kennels a leader in the Austraian shepherd breed.Briarbrook is the home of mupitial Best In Show aussies. The Breeder of 3 Best of Breed winners at Westiminster. Briarbrook is the home of # 1 aussies in the nation and many top 10 dogs. Briarbrook is the breeder of over 100 AKC Chs.Show quality and pet quality puppys available by reversation.
1834 Garrison Carthage Mo 64836 417 358 4927
[ Breeder Location ( MO)
---

Diamond Aire Australian Shepherds info

View my puppies


Map View


Puppies for sale in Madison WI I have raised Australian Shepards for 30 years. I breed for the versatile aussie - a moderate, working dog that can show in the breed ring, obedience ring or compete in agility. All my breeding dogs are OFA'ed, hips and elbows and eyes checked clear yearly by a veterinary opthamologist. Puppies are raised in the house and well socialized.
N3029 945th St Hager City WI 54014
[ Breeder Location (Madison WI)
---

Mykinda Aussies info

View my puppies


Map View

---

Alstar Aussies info

View my puppies


Map View
Toy, Miniature , and Standard Australian Shepherd puppies, Champion Bloodlines, Excellent temperments. Masca, Namascusa, NSDR, UKC, and AKC Resgistered. Parents have had all clearances. Home of BIS/INT./NAT./Masca CH. Bold Legends Little Black Bear, Orwigs Copper and Artistry's Midnight Marauder. Puppies available now, as of 12/13/04.
Connie Orwig (309) 483-6555
[ Breeder Location ( IL)
---

Edana Kennels & Handling Services info

View my puppies


Map View

---

High Country Australian Shepherds info

View my puppies


Map View


Puppies for sale in Denver CO My daughter and I raise and show australian shepherds. They are registered akc and asca(Australian Shepherd club of America. We have puppies only occasionaly, 4 litters since 1993. Hope you visit and enjoy our site. If you have any question or are looking for a pup in or near Colorado Springs please email me I might be able to refer you to someone who has puppies if I don't have what you are looking for.
http://geocities.com/hicntryaussies/
[ Breeder Location (Denver CO)
---

DESERT ROSE AUSTRALIAN SHEPHERDS info

View my puppies


Map View
BEAUTIFUL AUSTRALIAN SHEPHERD PUPPIES...expected November 8,2006 Ready for new homes at Christmas. Superb quality with Championship and Hall of Fame ancestry. Registered AKC/ASCA DNA certified and guaranteed,references,pictures,and pedigrees on request.. Now accepting reservations for this outstanding litter.We are an established Australian Shepherd Kennel with over 35 years of experience raising these wonderful,devoted,family companions. We strive to breed the Australian Shepherd as he was originally designed to be....high intelligence and focus with emphasis primarily on disposition (moderation in aggression), beauty,health, performance and devotion to his master at all costs. Contact Jacque 1-505/864-3971 New Mexico.
desertrose5@earthlink.net
[ Breeder Location ( NM)
---

Australian Shepherds/ Soundtrack Farms info

View my puppies


Map View

---

SHALAKO AUSTRALIAN SHEPHERDS info

View my puppies


Map View


Puppies for sale in Austin TX We have over 18 years in this breed with a focus on breeding quality companions who are both great family dogs and top notch performance and show dogs. Our dogs are lovingly raised inside our home. We are located in Houston, Texas and welcome visitors who are just learning about the breed. We limit our breedings; selectively interviewing prospective buyers who we feel will be a good match for our dogs and are always willing to help locate a puppy with another breeder when we do not have what a person is looking for. We stand behind the dogs we produce and are always eager to hear from the people who have acquired them. We are happy to answer any questions and to provide potential puppy purchasers with references upon request. Our puppies come with a written hip, eye & health guarantee. _________________

[ Breeder Location (Austin TX)
---

BEARPATHMINIAUSSIES info

View my puppies


Map View
Bearpath Miniature Australian Shepherds, Raised underfoot and handled for socialization in my home. Pet/companion or Show/breeding our puppies come with a full guarantee.Breeders of MASCA Gr.Ch.Dazzlings'Peaches&Cream CGC Multiple BIS winner. Quality Puppies to Quality People.

[ Breeder Location ( Belgium)
---

Roanoak Australian Shepherds info

View my puppies


Map View

---

PinOaks Kennel info

View my puppies


Map View
We are a small breeder located in North Central Missouri. Our Aussies have the brains, beauty, and temperment that all Aussies should posess. With 5 children, our Aussies are well socialized for your family. All puppies are dual registered with the AKC and the ASCA. Please visit our website for more info.

[ Breeder Location ( MO)
---

Stonepine Australian Shepherds info

View my puppies


Map View

---

Slydrock info

View my puppies


Map View


Puppies for sale in Austin TX I have had the pleasure of being owned by this breed since 1969. Since then, I have had the privilege to see this wonderful breed perform many tasks at home, on the ranch, in service jobs, and in all areas of competition. It is my intent to preserve the aussie as they were meant to be. A sound, intelligent athlete with the ability to do any chore put before them. Donna Arnold 18626 Connie Magnolia, Tx 77355 (281)252-4486

[ Breeder Location (Austin TX)
---

Crosshill Working Aussies info

View my puppies


Map View

Page:1
Australian Shepherd To top of Page